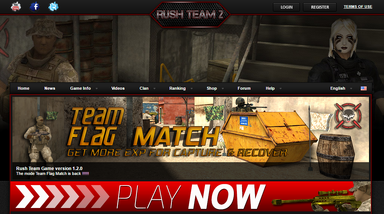 Welcome! Welcome!
Edit
Welcome to the Rush Team Wiki, the fan managed wiki on the browser-based FPS called ''Rush Team''. The wiki is in very early stage of development and contributions to it are appreciated.
General Info
Edit
Rush Team is a free beta-stage browser-based multiplayer first-person shooter game built on Unity 3D engine and Photon network engine, released first time for the public on 14th of July 2012 on Kongregate and asrprogs.net. Rush Team doesn't require you to download any parts of the game or any kind of plugin on your computer and is playable on any browser that supports WebGL or Unity. You can also play Rush Team on Gameloader.
The game is developed by "Roka", who is assisted by a dozen of other staff members known as Game Masters or GM's for short. Whilst not directly working at the development of the game, the job of the GM's is to supervise the game and help users with problems they may encounter in the game.[1]
Play with your friends, level up, and get more weapons to rule over the maps.
References
Edit
External links
Edit